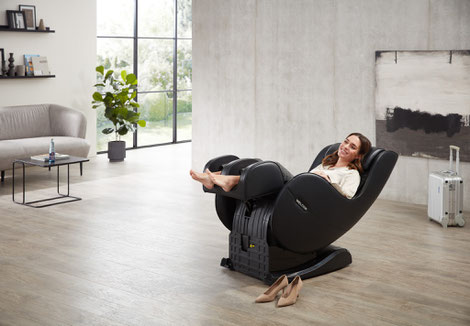 The Prestige II massage chair and the Easyrelaxx massage chair are two state-of-the-art and innovative products on the massage chair market. Both models offer a wide range of functions and massage programs to provide users with the ultimate relaxation experience.
However, the choice of a suitable massage chair depends on various factors, including the type of rollers and tracks used in the particular model. The Prestige II massage chair is characterized by its fixed rollers, which are used instead of a track. In this model, the rollers are attached directly to the chair frame, providing increased stability during massage. This allows for targeted massage to specific areas of the body, as the user can manually position the rollers. The fixed rollers also offer greater flexibility in adjusting the massage intensity and technique. On the other hand, the Easyrelaxx massage chair features two runners that are shaped like the letter J. These running rails allow for a gentle and natural massage movement that effectively relaxes the user's body. The J-shaped shape of the running rails allows the Easyrelaxx massage chair to massage a larger area of the body, providing a more comprehensive massage experience. The differences in the massage experience between the Prestige II and Easyrelaxx massage chairs are significant. While the Prestige II, with its fixed rollers, provides a targeted and intense massage to specific areas of the body, the Easyrelaxx, with its J-shaped tracks, offers a gentler and more natural massage motion. The choice between the two models depends on the user's individual preferences and needs.
Some customers praise the Prestige II massage chair for its exceptional comfort and high-quality massage function. They emphasize that the fixed rollers allow for targeted and precise massage on specific parts of the body. Many customers report noticeable relief from tension and pain after using the Prestige II. In addition, the stability of the chair is positively highlighted, which ensures a pleasant and safe massage experience. Customer reviews of the Easyrelaxx massage chair focus mainly on the J-shaped tracks and their impact on the massage experience. Many customers describe the massage movements of the Easyrelaxx as gentle and more natural compared to the Prestige II. The J-shaped running rails allow for a flowing and harmonious movement that customers find extremely comfortable. Several customers also mention the multiple massage functions of the Easyrelaxx and emphasize its effectiveness in relaxing and relieving muscle tension. When analyzing customer experiences and reviews of both massage chairs, it becomes clear that both the Prestige II and the Easyrelaxx have their own advantages and benefits.